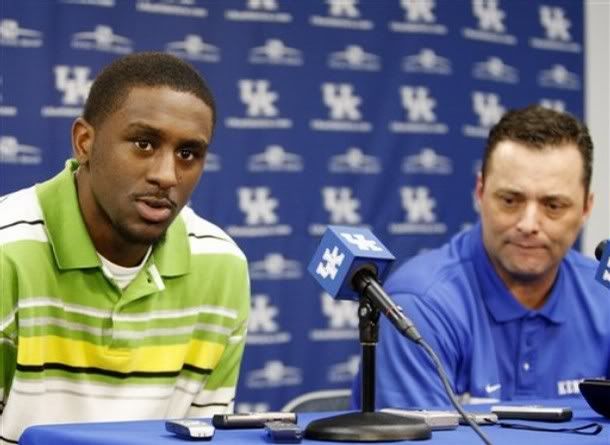 The start of the new season doesn't bid well for Gillispie. When he first came to UK last year, I was excited at the opportunities ahead for the basketball program. Although he's a brutal monster in the recruiting field, I'm not so convinced yet that he has the best interest at heart for the program. I'm going to throw some things out there that may upset some of you, but this is how I feel, and MOST of the time my gut instinct is right on. Ninety percent of the time. And I honestly don't care if other people think differently or try to persuade me to think differently.

It wasn't until this preseason that I began to realize that my gut instinct might be right. Last year I let the season play out, trust Gillispie in what he says and how he conducts his practices and styles. Don't get me wrong, Gillispie is a ball of fury when it comes to recruiting, and he actually has brought a bunch of talent-sized kids to Lexington. I admire his hard work there, but I'm more concerned now that his coaching style might be a 'one-hit wonder' and that Mitch Barnhart jumped the Pop Chart too quickly.

It is because of this I decided to follow Gillispie's word as closely as I can and judge his thoughts and comments and relate them to my original idea that he might just be hurting Kentucky more in the long run. What's more irritating to you? Having no talent but having a chance to win a championship or having crap loads of talent but not having a chance in hell to win it all? I clearly want loads of talent that will win a championship, but we need a coach that is going to manage the players correctly, manage morale, manage practice times, and treat the players fairly.

Now, before I get into the VMI game, I want to show you an example of how Gillispie is treating his players that I think will affect, if it hasn't already, the player involved. The VMI game itself is one huge piece of baffelism (yes that's my new word), but first let's compare some significant quotes by Gillispie that I think shows he's hurting player morale already on the team, not to mention he already openly admitted to us all that he tanked the team, whether consciously or sub-consciously is your decision to make, for the second straight home opener in his career at Kentucky, and he has far more responsibility for this year's opening loss than last year's.

Let's go back to the exhibition game against Ouachita Baptist on November 7, 2008. Perry Stevenson led the team with 35 pts and 20 rebounds. This is a kid who has improved so much over the years and probably wouldn't have flourished so much if Tubby Smith was still here.

Here is Gillispie's comments on Stevenson's game.
I know the numbers indicated that he played really well but that is the only place I saw him play well. I don't think he is playing well for us right now. I know that sounds crazy when a guy gets 20 rebounds. He was good in the sense that we played a lot of different combinations in the game and he was the most experienced guy in the game because guys were sitting on the bench because of foul trouble.
I know that sounds crazy. Really Billy? I'm glad we're on the same page because IT IS crazy. The least you could do here is give credit where credit is due. Stevenson stepped up when no one else didn't, and you want to focus on the negative? The kid stepped up, I don't care how he did it, but that's ok Billy G. If that's your style and how you want to critique your players, then ok, I'll give you the benefit of the doubt.

I was willing to understand where Gillispie was coming from until the post-game quotes on Meeks after the VMI game. Do you think he would apply the same critiquing style he gave to Stevenson to Meeks' performance? I mean after all, we LOST the game. Does he put some blame on the players? No, he takes all the blame and even praises Meek's performance which is very inconsistent and contradictory considering the way he treated Perry Stevenson's performance.

Here's Gillispie's comments on Meeks' performance against VMI.
He has played his heart out every time he has played (in a game) and in every practice. He played spectacular tonight as far as scoring. He did a great job guarding Austin Kenon once we got started. He made one mistake leaving his man in the second half, but other than that I thought he played fantastic. He was the one guy that was consistent tonight. But that is not going to work when you have one guy scoring 39 points.
Wow. That's all I have to say. Wow. This time instead of focusing on the negative part Meeks' game, he decides to praise his performance citing that he was the only consisting thing Friday night. He could have said the same damn thing about Perry Stevenson the game before but Gillispie decided to focus on what Stevenson did wrong and not that Stevenson was probably the only consistent thing in the game against Ouachita Baptist.

Which is it Gillispie? Are we favoring players already over the less talented? Do players like Jodie Meeks and Patrick Patterson do no wrong for you because you regard them much higher as athletes?

Not one critique on Patrick Patterson who showed up flat in Friday night's opener. He's our leader and he doesn't put one bit of responsibility on this kid? It was apparently everyone else's fault because they couldn't get the ball to Patterson which was because VMI played a quick up and down game? That's the excuse? I'm sorry but I'm saying it … Tubby Smith wouldn't tolerate such analysis from anyone.

Now let's review what Gillispie said about the loss to VMI which reveals some telling things.
We started off the game with experienced guys on the court. Our guys were playing soft on the ball and not appreciating the intensity of the game. We didn't face up strong and square off to the basket well. We didn't play well on the court tonight and we didn't make crisp passes. We didn't do a very good job getting to our spots very quickly. I noticed way too much walking around on the court. We didn't have much zip on our passes tonight. You can't have 25 turnovers in the game with 16 in the first half. We finally got the lead, then we didn't get an offensive rebound and just let a guy shoot an easy lay-up. There were way too many break-out baskets. All of these problems were my fault. I'm the coach and I should have prepared this team better for this game and not let this happen.
Again, who is the face of this team by the way? Gillispie or Patterson? Some of you would argue this point, but Patterson is Kentucky's workhorse. He's our leader and he should be placed a lot of blame for the loss to VMI's Friday night. Otherwise, maybe Patterson should just play flat all season like he did Friday night with the rest of team and not play with ANY enthusiasm for defending Rupp Arena at all against some team who probably won't even make it to March Madness. At this rate already, Kentucky won't make March Madness if the sports writers of America do their voting objectively.

Gillispie puts all the blame on himself and admits to everyone that he didn't prepare his team for the home opener of the season. So here you go Gillispie, since you're avoiding to put the proper blame on your team's leaders , and I don't know, maybe he's afraid to offend Patterson since he's the only player on the team who's been hyped up to be this untouchable savior for the Wildcats, here's some proper critique for you.

How dare Gillispie not prepare this team for a season home opener in Rupp Arena. This is Lexington and we expect much better results. We certainly don't expect some team most of us never heard of to dominate us like North Carolina will Tuesday night and score over 100 in OUR house. This is not acceptable. Two in row doesn't bid well for Gillispie. Hasn't he learned anything yet about coaching in Rupp Arena?

What exactly is Gillispie doing? Does he not care at all about how his games are played? I don't buy that he didn't prepare his team for this game. I don't buy that at all, in fact, I think Gillispie knows exactly what he's doing. I don't buy that he didn't scout VMI for Friday night's game and didn't prepare a game plan.

I think Gillispie is working these kids too hard and too much in practice so he can achieve these flat results when it counts with a goal in mind to never take seriously to bringing Kentucky back to national prominence. I think recruiting is a way for Gillispie to portray he cares about Kentucky, but so far as much as he has been hyped up to be as a coach, the results are less than par. They are flat out embarrassing. How do you schedule a team like VMI for your home opener and play as an embarrassment to the university and fans?

I am convinced until otherwise contradicted by his results and his attitude that there is something bigger going on here with Gillispie and I'm relunctant to say what the bigger picture is because my gut feeling is telling me that Billy Gillispie isn't taking his job seriously as he seems to otherwise portray by his demeanor and recruiting results.

I think it's just as important to let these kids rest and absorb game plans as much as practice is. The key is balancing that out, and I don't think Gillispie is managing that very well. So far, I don't see that he shows he can put proper blame and motivation onto those players who rightly deserve it.

Don't get me wrong, I love this team. I think they can be very special, but in the end, it's Gillispie's responsibility to have these kids prepared and properly rested to play and with the enthusiasm for playing for the University of Kentucky.